Sacral Chakra
Today I'm going to write about the Sacral Chakra. The sacral chakra is located just below our navel in our lower abdominal region. The color of this chakra is a deep, saturated orange and relates to reproduction on a physical level, creativity and joy and relationships on an emotional level and our energy and passions on a spiritual level.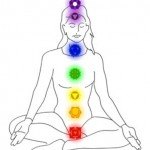 When the sacral chakra is too open (spins too fast) we are emotionally unbalanced, can be a fantasizer, manipulative or addicted to sex.… If it is closed or blocked (spins sluggishly or not at all), one can be overly sensitive, hard on oneself, feels guilty for no reason, frigid or impotent.
When this chakra is balanced (spins in the proper direction, motion and speed), you are trusting, expressive, attuned to your own feelings and creative.
We have a new Sacral Chakra Spray which helps balance this chakra. There are also affirmations attached to the bottle which help. It is made with all natural ingredients and charged with Reiki to assist in healing and balancing.
. This spray is specially blended with witch hazel, alcohol and essential oils to help clear this chakra. Available in 4 oz bottles. http://eaglesmoonhealing.com/product/sacral-chakra-spray/